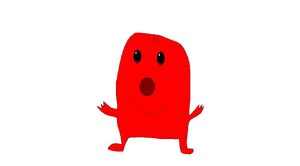 Taikino is a fan-made Mr. Men character created by Beaniet85. He is the son of Mr. Rude and Miss Scatterbrain. He takes after his father in physical appearence, however he is very polite, kind-hearted, caring, friendly, dislikes bad manners, always has a smile on his face, and even has a mixed French-New York accent. He has two younger brothers: Jurai (the son of Mr. Muddle and Miss Scatterbrain) and Rude, Jr. (the son of Mr. Rude and Miss Selfish.) He also has a cousin named Scatterbrain, Jr. (the son of Mr. Scatterbrain and Miss Helpful.)

Relationships with people outside of his family:
Mr. Brainiac - He is Taikino's hero/idol, who is the leader of the Mr. Rangers. Mr. Brainiac met Taikino when the latter was just a baby, and ever since then, their friendship has gotten stronger as time goes on.
Jaiden - He is Taikino's best friend, and they met on their first day of school at Dillydale Daycare a few years back, now they both attend Dillydale Elementry School.
Miss Headstrong - She is Taikino's girlfriend, and also the sister of Jaiden.