Mr Brainiac is a fanmade Mr. Man character created
User:Brainiac Adam
. He is also his Mr Sona too. Not only he is Adam's Mr Sona, he is also based on the TV Show; Brainiac: Science Abuse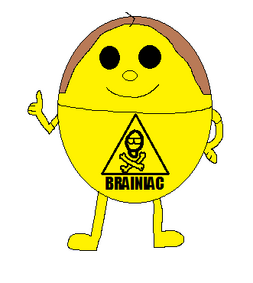 About Him
Edit
Mr Brainiac often preforms mad science experiments that would often baffle people, but sometimes they do prove to be true. The experiments he usually preforms are walking on custard, swimming in syrup, spinning on an office chair with cO2 canisters and burning a candle on both ends. He is inspired by the TV Show Brainiac: Science Abuse. He is also Miss Sexy's boyfriend too.
Mr. Rangers
Edit
Mr Brainiac is a valuable member of the Mr. Rangers and serves as the Yellow Mr Ranger. He is comical at times, but he is kind-hearted, happy and fun loving and will always prove to a great leader. He was second in command of the Mr Rangers when Mr Dynamite was part of the Mr Rangers, but when he left, Mr Brainiac became the new leader of the Mr Rangers. He is still the Yellow Ranger, but is the new leader. He will be occompanied with his beloved late pet dog Honey. In Battle, Mr Brainiac has 3 weapons. Claws based on that of Wolverine from the X-Men, a magic cape that enables him to fly and defend himself from projectiles and a lasso to catch enemies.
Counterparts
Edit
Wolverine (X:Men): Both are yellow and have claws
Mario (Nintendo): Both are heroic, comedic and good-natured
Goushi/MammothRanger (Kyōryū Sentai Zyuranger): Both are the oldest and second-in-command of their Power Rangers teams (Until Mr Dynamite left)
Boi/TigerRanger (Kyōryū Sentai Zyuranger): Both are male yellow rangers
The 10th Doctor (Doctor Who): Both are heroic and good-natured
Liu Kang and Sonya Blade (Mortal Kombat): All can do bicycle kicks
Pikachu (Pokemon): Both are yellow
Donatello (Teenage Mutant Ninja Turtles): Both are intelligent
Dustin Brooks (Power Rangers: Ninja Storm): Both are male yellow rangers
Charlie "Chip" Thorn (Power Rangers: Mystic Force): Both are male yellow rangers
Tideus (Mighty Morphin Power Rangers): Both are male yellow rangers
Mr. Awesome (The Mr. Men Show: Season 3): Both are good-natured, but Mr. Awesome thinks that the Counterparts sections are full of incorrect information.
Community content is available under
CC-BY-SA
unless otherwise noted.