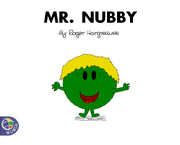 Overview
Mr. Nubby is the cutest person in the world. If not the cutest. And as you can probably imagine, Mr. Nubby lives in a place called Wubbyland. Yes! Wubbyland! Wubbyland Dogs are very cute. Wubbyland cats are extremely cute! Wubbyland worms are extraordinarily cute! Wubbyland birds are exceedingly cute! And you should see a Wubbyland rabbit. They're the cutest. And there in the middle of all this cuteness lived Mr. Nubby in the cutest house you've ever seen! Wubby Cottage!
Trivia
Mr. Nubby is based on his creator, Dantheman2funny.
His phrases are "Awwwww! Bubbyyyyyyyy!" and "*high pitched squeal* IT'S A BUBBYYYYYYYYYYYYYYYYYYYYYYYYYYYYYYYYYYYYYYYYYYY!!!!"
Counterparts
Pichu (Pokemon Gold and Silver, both are cute)
Fievel Mousekewicz (An Americal Tail, both are cute)
Pachirisu (Pokemon Diamond and Pearl, both are cute)
Hamtaro (Hamtaro, both are adorable)
Gallery