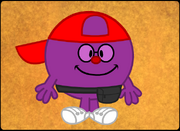 Mr. Dudemang is a fan-made Mr. Man created by MrMenCentral. He is also his Mr. sona too.
Information
Edit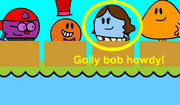 Name: Mr. Dudeman
Gender: Male
Color: Purple
Shape: Round
Nicknames: none
Family: Little Miss Slippery (sister), Little Miss Wacky (sister), Little Miss Athletic (cousin), Jenny Searchanfind ("computer sister"), Dot the Cat (pet cat).
Friends: Mr. Bopit, Miss Hologram, Mr. Pirate, Miss Slippery, Miss Wacky, Miss Hats, the rest of the characters.
Crush: Little Miss Hats
Hair Color: Brown (revealed when he loses his hat in one episode)
Likes: fanny packs (can't you tell?), conjoined twins, cats, Mr. Men (obviously), Homestar Runner, Looney Tunes, Animaniacs, Tiny Toon Adventures, CatDog, Ozy and Millie, Dr. Seuss, Noonbory and the Super 7, SpongeBob SquarePants, Hamsterball, The Muppets, Get Smart, Gilligan's Island, Fraggle Rock, Odd Squad, object shows, and the list goes on.
Dislikes: being the victim of one of Miss Naughty's pranks, failing to solve his cases, not getting to swim with Miss Hats.
Catchphrase: "You know what that means!", "And so, once again...", "Would you believe...", "Missed it by that much.", "And loving it.", "Sour cream!", "Yoylecake!", and "What's next?"
Fun Facts: He has had visitors from various series, including Tiny Toon Adventures and Animaniacs. Also, he cannot be scared by Miss Scary.
Voice Impressions
Edit
Being based on MrMenCentral, Mr. Dudeman is capable of impersonating voices. This is featured a lot in The Mr. Men and Little Miss Show.
| Character whose voice was impersonated | Episode the voice was used in |
| --- | --- |
| Plankton from SpongeBob SquarePants | Summer and all of his appearances that follow |
| Miss Kind | Plays (when he is disguised as her) |
| Maxwell Smart from Get Smart | most of his appearances |
| Dr. O from Odd Squad | whenever he says "What's next?" |
Mr. Dudeman's Emotions
Edit
Mr. Dudeman's Emotions, based on the Emotions from Inside Out, have their own articles.
Community content is available under
CC-BY-SA
unless otherwise noted.