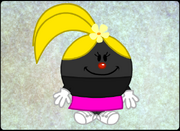 Little Miss Zany is a fan-made Little Miss created by MrMenCentral. She was inspired by Dot Warner from Animaniacs.
About her
Edit
Name: Little Miss Zany
Gender: Female
Color: Black
Shape: Round
Nicknames: Dottie (various characters call her this, but she doesn't like it)
Family: Mr. Humor (brother), Mr. Zany (brother)
Friends: Mr. Humor, Mr. Zany, the rest of the characters
Crush: none.
Hair Color: yellow
Likes: lots of things.
Dislikes: being called "Dottie," being told she doesn't wear a shirt (see Fun Facts below)
Catchphrase: unknown
Fun Facts: Despite what other characters think, Miss Zany actually does wear a black shirt (MrMenCentral imagines Dot Warner, whom Miss Zany was inspired by, as wearing a black shirt as well).
Community content is available under
CC-BY-SA
unless otherwise noted.