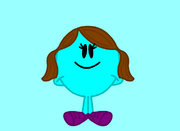 Little Miss Kind
 is a fan-made Little Miss created by MrMenCentral. Unlike his other OCs, however, he does not voice her.
About Her
Edit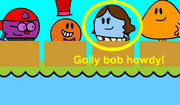 Little Miss Kind arrived in Dillydale on the first day of summer in 2009 and met
Mr. Dudeman
on the same day. She helped him solve a mystery he needed help with. The next day,
Mr. Wet
, the manager of the Party Pool restaurant, hired her as a fry cook. He promoted her to manager soon after because he was leaving the restaurant business for the job he always wanted: a lifeguard at the Dillydale Swimming Pool! Miss Kind realized the restaurant needed a new fry cook, since she couldn't be both the manager and the fry cook at the same time! Little Miss Tiny and Little Miss Curious both ended up getting the job. (
Jenny Searchanfind
 would have gotten the job if Mr. Grumble hadn't interfered.) Eventually, Miss Kind took a brief vacation in Animenia (which is where
Little Miss Slippery
 lived before she came to Dillydale), and when she returned, she gave Mr. Dudeman and each of his three sisters a job at the Party Pool! They entertain the customers with puppet shows and help Miss Kind solve mysteries when she needs their help.
She left Dillydale on January 26, 2017. It is unknown whether she will return.
Community content is available under
CC-BY-SA
unless otherwise noted.